Free for Monegasques and residents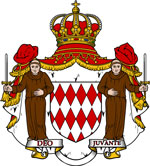 Prince Albert II has been head of the Principality for 10 years in July, and to celebrate he's offering a free concert starring Robbie Williams, on Sunday 12 July.
Tickets for the gig are released next week, initially for Monegasque nationals, and the following week for Monaco residents, and you can pick them up from the Espace Leo Ferre in Fontvieille.
Don't be tempted to ask for extra tickets for friends and family who don't live in Monaco, because you'll not only have to show ID when you collect them, but also when you show up to the concert. For Monegasques that's their ID card, and for residents their Carte de Sejour.
The Mairie is also advising that the event is unsuitable for children aged under 12 due to the risks of crushing, deafness caused by loud music, and losing the little ones in the crowd.
Ticket outlet information
Collect your tickets from the
Espace Leo Ferre
in Fontvieille:
Monday 8 June to Friday 12 June, 9:00-16:00, for Monegasque nationals
Monday 15 June to Thursday 18 June, 9:00-16:00, for residents and Monegasque nationals
Available only on presentation of Monegasque ID or Carte de Sejour, which also needs to be shown on entry to the concert
.
Practical details and information about getting there will be released later. For more information phone +377 93 15 28 63.