New attraction at the Oceanographic Museum.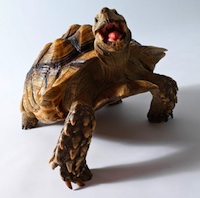 Photo source:
The Telegraph: Lennette Newell / Barcroft USA
Inaugurated yesterday by Princess Charlene, the Ile aux Tortues (Turtle Island) opens to the public today on the rooftop terrace of the Oceanographic Museum.
The specially designed area is a new home for 5 tortoises, which were given to Prince Albert by the President of the Republic of Mali. Aged 5 to 30 years and weighing around 40 kilos, the five residents are Spurred Tortoises (Centrochelys Sulcata), the 3rd largest species in the world after that of the Galapagos and the Seychelles. Turtle Island provides information for visitors about the tortoises and their preservation, as well as about marine turtles, especially those of the Mediterranean.