What to do and where to go in Monaco and Monte Carlo.
Delivered to your email box first thing on Thursday morning.
March 22nd Newsletter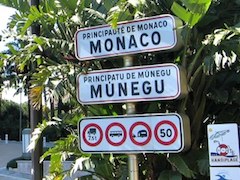 The story of the blues (1)
There's lots to do this weekend, but don't forget to turn your clocks forward an hour on Sunday morning.
What's new?
Fairmont Monte Carlo is celebrating again, after being acclaimed best hotel in Europe in the 2011 International Hotel Awards in January, it's recently been named best overseas hotel by the British Meeting and Incentive Travel (M&IT) journal.
Planet Pasta re-opened this week after refurbishment, with a brighter interior, but reassuringly, the same menu featuring pasta of all shapes and sauces. We also have a little more information about the new restaurant on the Darse Sud. Pizz'art's lease has been taken on by an Italian family that owns several places in Nice, including two restaurants and a wine bar where we regularly enjoy a meal out.
Finally we tried Cave de Max just over the border in Cap d'Ail. It was relaxed and bistrot style, with the menu chalked on boards, from which we chose beef, cooked to perfection, followed by a super cheese platter. There were a couple of fish dishes and sweet desserts too. If you visit, put your trust in Max, who served us different wines by the glass to perfectly match our food and taste.
What's in the diary...
Thursday: Opera for all, Yacht Club for Brits.
Friday: Comedy + song + dance + theatre = cabaret.
Saturday: Green parade and Rose Ball.
Sunday: Surprises for kids and music lovers.
Coming up next week Brassens, youthful careers and music.
For lots more suggestions, visit maBoum's 7 day listing and enjoy your weekend.
(1) This week's quote is the title of a song by British singer/songwriter and guitarist Pete Wylie, born this day 1958.