Having a merry Christmas in Monaco and Monte Carlo
Delivered to your email box first thing on Thursday morning.
December 24th and 31st Newsletter
Let the bells ring out for Christmas
Welcome to the Christmas and New Year edition of our newsletter.
What's new ...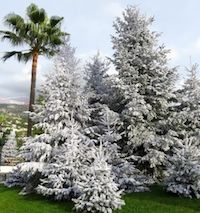 We're hanging up the tinsel and fairy lights ready for a sparkling festive fortnight.
Our next newsletter will be sent on 7th January, but we'll still be updating the website so you can count on our
7-day listing for events
and our
New Year's Eve guide
to help you decide where to welcome 2016.
At this time of year we're thinking of the future and it's looking very positive following the COP21 global climate deal. Prince Albert, who attended the Paris conference, said in an interview this week that the rich and poor of Monaco have had enough of breathing polluted air. He called on the Principality's drivers to leave their Porsches and Ferraris in the garage more often. Cleaner air and more exercise are certainly welcome additions to our wish-list for next year,
As we move towards 2016, we'd like to thank all our readers for supporting us in 2015. Whilst wishing you all a Merry Christmas and a Happy New Year we'd like to echo the words of COP21:
"Long live the planet. Long live humanity. Long live life itself."
What's in the diary...
Thursday
:
Christingle service
&
midnight mass
.
Friday
:
Holly Christmas
.
Saturday
: Monaco
Christmas Village
.
Sunday
:
Africa Eco Race
departs.