Your weekend guide to Monaco and Monte Carlo.
Delivered to your email box first thing on Thursday morning.
July 26th Newsletter
Play up! play up! and play the game! (1)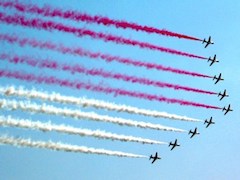 We'd like to wish team Monaco all the best at the 2012 London Olympics, which start tomorrow.
What's new?
In addition to the Olympic Games, a local sporting event is also about to kick off. It's the start of the French football season, and if you want to watch Monaco FC playing at home in Stade Louis II, we've created a handy list of matches for you.
Monaco's newest Italian restaurant, Address, is open for business. When we passed by, we were advised to phone ahead to be sure of a table, as there are only a small number of covers. You'll find the menu and extensive wine list on the restaurant's website, which promises fine Italian food, unique dishes and an intimate atmosphere. Let us know what you think if you get there before us.
Another place to watch out for is the restaurant previously known as Taverne in Beausoleil. Located on the corner of boulevard de la Republique, opposite Savannah Bar, the Grano de Oro is due to open in September.
What's in the diary...
Thursday: Melody in the Sporting Summer Festival.
Friday: Monaco welcomes US legend and Ibiza beach party.
Saturday: AVA plays blue note, DJ mixes at brasserie.
Sunday: a concert to harp on about.
Coming up next week, Tours in Monaco, and a man named Alice.
For lots more suggestions, visit maBoum's 7 day listing and enjoy your weekend.
(1) This week's quote reflects an Olympics sports theme, and is a line from Vitai Lampada by English poet Sir Henry Newbolt. The poem talks of the value to society of personal dscipline and selflessness, learnt on the cricket field.