Your unofficial guide to Monaco and Monte Carlo.
Delivered to your email box first thing on Thursday morning.
June 28th Newsletter
Just another defense against the universe (1)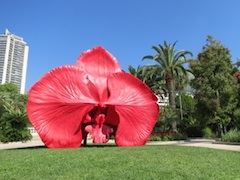 There's no shortage of things to do in Monaco this evening - sacred music, jazz, ballet, Italian film, an adult fairy tale, and good old happy hour.
What's new?
Just a stone's throw from the Princes' Palace, takeaway ice-cream and snack outlet Palais Greem is extending its licence to include pavement seating. Down by the port, O Duplex has been closed for a few weeks now, with a "fermeture exceptionelle" notice, so if you plan a visit, phone first to avoid a wasted journey. Another restaurant you'll need to contact in advance is La Montgolfiere, where some of our readers recently hoped to dine at the start of the week. Usually a quiet evening for eating out, Monday was fully booked and our hungry friends had to try elsewhere.
On the events schedule this weekend, there are two sports meetings taking place over 3 days. Monte Carlo International Jumping, the annual horse jumping event in the port starts today, and tomorrow sees the return of the classic motor boat Riva Trophy. Enjoy!
What's in the diary...
Thursday: Australian wine and food.
Friday: fairy tale ballet.
Saturday: grand opera and cool jazz.
Sunday: first concert of 2012 organ festival.
Coming up next week, first 2012 summer bandstand concert, American partying, and new Spider Man film.
For lots more suggestions, visit maBoum's 7 day listing and enjoy your weekend.
(1) This week's quote is about humour, and is by Mel Brooks, born this day in 1926

. The American director, screenwriter and comedian is well known for many movies, including The Producers, Blazing Saddles, and Young Frankenstein.