Things to do and places to go in Monaco and Monte Carlo.
Delivered to your email box first thing on Thursday morning.
June 28th Newsletter
The livin' is easy (1)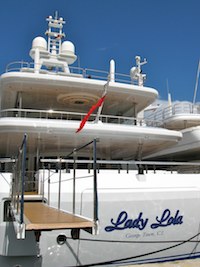 School's out from tomorrow, and there are plenty of holiday activities in Monaco to keep the kids occupied.
What's new?
Scheduled to open in August, a new skateboard park is being installed on the Rocher for teens and children aged 8 and over.
For the adults, art lovers can take advantage of a summer ticket that allows entry to the 4 major exhibitions. Party animals will no doubt be first in line for the launch of Billionaire Club, and first off the boat at Life Club. Finally, if you have some cash to spare and collect classic cars, a few from Prince Rainier's collection are to be auctioned off, all with documents in the name of the Prince.
What's in the diary...
Thursday: Malaysia, Rome, Ibiza come to Monaco.
Friday: Enrique opens Sporting Summer.
Saturday: Dream concert for Prince Albert's Foundation.
Sunday: Louis Robilliard pulls out all the stops.
Coming up next week, summer fair opens, and France fires first rockets.
For lots more suggestions, visit maBoum's 7 day listing and enjoy your weekend.
(1) This week's quote is a line from the song Summertime

. The lyrics were written by DuBose Heyward, with music by George Gershwin, for his 1935 opera Porgy and Bess.