Out and about in Monaco and Monte Carlo.
Delivered to your email box first thing on Thursday morning.
December 8th Newsletter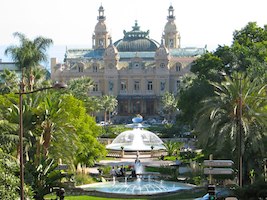 People are Strange (1)
Did you know that the founder of Monte Carlo, Prince Charles III of Monaco was born this day in 1818?
What's new?
There was confirmation this week that Jimmy'z in the Sporting d'Ete is closing for winter and moving in the New Year to premises previously occupied by Moods.
Monaco chefs have also been in the news. After 12 years at the Monte Carlo Beach Hotel, Jean-Claude Brugel moves closer to the centre of town and takes control of the kitchens in the Cafe de Paris. At another hotel, Fairmont Monte Carlo's chef is the subject of a book about to be published. "Maryon Gandon, Gentleman Chef" follows the day to day life of an executive chef in a luxury hotel and includes recipes. An idea for a Christmas present perhaps?
What's in the diary...
Thursday: Movies with wings and halos.
Friday: A Prima Donna deserving the title.
Saturday: Let the dancing begin.
Sunday: An exhausting run up to Christmas.
Coming up next week, music for harp and brass.
For lots more suggestions, visit maBoum's 7 day listing and enjoy your weekend.
(1) This week's quote is the title of a song by The Doors' front man, Jim Morrison, born this day in 1943.