Unofficial guide to what's happening in Monaco and Monte Carlo.
Delivered to your email box first thing on Thursday morning.
March 24th Newsletter
Spring forwards (1)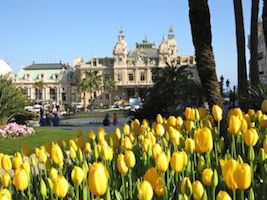 Good news - it's Spring and Haagen Dazs is open for treats. Bad news - the clocks go forward and you lose an hour in bed.
What's new?
Have you tried the Explorers Pub yet? Opened last week in the presence of Prince Albert, the new place is promoted as a gastro pub, with a menu designed by Michelin starred Patrick Raingeard, Monaco roasted coffee, piano music, photo exhibition and even a library. We enjoyed the atmosphere, the service and the delicious aubergine starter, and plan another visit to try out the cocktails.
What's in the diary...
Thursday: White, green and violet spears that won't harm you.
Friday: Lunch with Tony Blair's flatmate.
Saturday: Romantic meal may help save the earth.
Sunday: Musical mystery tour, Riviera comedy night.
Coming up next week, Irish eccentricity and French humour.
Featured event
A special mention this weekend to Solidarite Monaco-Japon, which is raising funds on Saturday to help those affected by the recent earthquake and tsunami. The afternoon event includes entertainment and an auction, for which the Monaco-Japan Association is asking for items such as works of art, restaurant meals, pro sports training etc. If you have something that you'd like to donate, please contact us and we'll put you in touch with the organizer.
For lots more suggestions, visit maBoum's 7 day listing and enjoy your weekend.
(1) An easy way to remember whether to add or subtract an hour: Spring forwards and Fall backwards.