Your unofficial guide to the weekend in Monaco and Monte Carlo.
Delivered to your email box first thing on Thursday morning.
August 2nd Newsletter
This be the verse (1)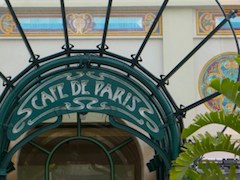 Today is St Roman's Day, with Monegasques celebrating their 2nd patron saint in a morning procession through the old town.
What's new?
We're about half way through the summer now, and with most workers currently taking their vacation, many businesses have slowed down. We're using the quiet time to update some of our listings, and we're hoping you can help us. If you know of a great restaurant in Monaco that serves a full English breakfast, please tell us about it.
Here at maBoum Towers, we love going to the cinema, but weren't impressed by the Batman film, The Dark Knight Rises. The general consensus is that it's too long and somewhat predictable. Another movie of interest is the forthcoming biopic about Princess Grace. If you're a pushy parent and your child would like to be seen on screen, you can apply for him or her to appear as an extra. But hurry, as the application date closes on Monday.
Finally, a big thank you to Sir Stelios for hosting the Monaco USA networking event on Tuesday. The evening raised awareness of and funds for Monaco Outward Bound, which provides bursaries for teenagers to attend challenging, outdoor activity courses.
What's in the diary...
Thursday: a wicked queen and a wicked Queen show.
Friday: Monaco vs Istres.
Saturday: a Klaas night out.
Sunday: Vernet plays the organ festival out.
Coming up next week, photography for kids, a white night and a white palace.
For lots more suggestions, visit maBoum's 7 day listing and enjoy your weekend.
(1) This week's quote is the title of possibly the most famous poem by English poet Philip Larkin, born this day, 1922

.