A fisherman's hut like you've never seen before.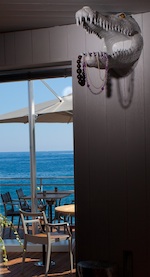 Comparing the new A'Trego members' club and restaurant in Cap d'Ail to a fisherman's hut is a little like comparing the Palais Princier to a shepherd's cottage. It's right by the sea, but if it was ever inhabited by a fisherman, he's long since departed and made way for the beautiful people who enjoy luxury and expensive food.
A'Trego has its official opening today. Led by a partnership between Corrado Agusta and former Jimmy'z manager Cyrille Regottaz, the club has an interior designed by Philippe Starck. The designer took his inspiration from the sea, sun and friendship, creating a stylized vision of that fisherman's hut.
Occupying 3 levels, the club's upper, second floor contains a large terrace and gazebo that can be covered if the weather is bad. Moving down, the first floor is furnished with large tables, carefully mismatched crockery and silver cutlery, and various artifacts, including crocodile skulls. There are 150 covers, an open kitchen, a bar and a large terrace. Finally, the ground floor is reserved for members who want to party through the night.
Food is provided by ex-Columbus Hotel chef Laurent Sturbois. Starters include caviar (160 euros), then there's risotto and pasta (24-39 euros), fish dishes include whole lobster teppan yaki (65 euros), and meat dishes (22-44 euros). The menu is rounded off with cheese, desserts and digestifs (9-16 euros), but it's likely that eating will take second place to seeing and being seen at A'Trego.
It's sure to be a hit with the exclusive, jet-set of Monaco.
Restaurant opening hours
midday-15:30
20:00-2:30
closed Sunday evenings, Mondays (except in high season)
Terrace
bar and snacks from midday
closed Mondays and Tuesdays (except in high season)
Members' bar
open at night
members only
closed Sundays and Mondays (except in high season)
NOTE: as A'Trego has only just opened, we've taken our information from the official press releases, so please forgive us if it's not quite as we describe.