New routes for New Year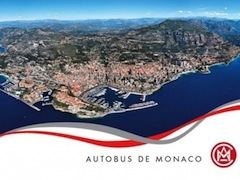 A quick trip to the supermarket yesterday caused Mrs maBoum some confusion, as Compagnie des Autobus de Monaco (CAM) introduced changes to bus routes 4 and 5.
If you get about the Principality using public transport, and you haven't yet been on the buses this year, here's our handy explanation (full details are on the CAM website, to which we've provided a link below).
Bus number 4, which used to run from Saint Roman to Place d'Armes, now continues to Fontvieille. It calls at Princesse Stephanie (for the Port and Stars n Bars), then Fontvieille Shopping Centre (for Carrefour), continuing past Princess Grace Rose Garden, Stade Louis II, then climbing up to the Cemetery, after which it rejoins it's original route towards Saint Roman.
Bus number 5, which used to run from the hospital to Fontvieille now avoids the shopping district. It departs from the hospital along boulevard de Belgique, heads to the top entrance of the railway station, down boulevard Princesse Charlotte towards the Tourist Office, and then follows the same route as bus number 6 towards Larvotto.
As a consequence of the changes, the Plati district is no longer served by scheduled services. Bus users here have a new service called TaD, Transport a la Demande, whereby they can phone +377 97 70 22 26 for a bus to take them to a stop on a scheduled route. The on-demand service has been operational since 22 December. Travellers should reckon on a wait of around 30 minutes for the TaD bus to arrive.
Here at maBoum we think the changes will improve bus travel. You can now catch a bus directly from Fontvieille to the other end of Monaco either via Port Hercule, or via boulevard Princesse Charlotte. If you've ever tried to exit Fontvieille by bus in the run up to Grand Prix, you'll know just how useful the alternative "up and over" route is. It also provides a more sensible transfer up to Monaco Ville from Fontvieille, using route 4 and changing to routes 1 or 2 at Place d'Armes.
For more detailed information on changes to routes 4 and 5, visit the CAM website at: Compagnie des Autobus de Monaco: lundi 5 janvier 2015 modifications sur le reseau de la Principaute.
For more information on the TaD service, visit the CAM website at: Compagnie des Autobus de Monaco: nouveau service pour les secteurs Hector Otto et Plati.