Discover heritage sites on the outskirts of Monaco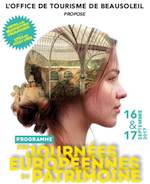 On 16 and 17 September, Beausoleil takes part in the Journees Europeennes du Patrimoine, when sites normally closed to the public are opened up.
Sites open to the public
Musee du Foyer du Poilu, 9 Avenue du Marechal Foch, phone +33 4 93 41 99 29. The museum commemorates WW1, WW2, and the Algerian War.
open 10:00-12:00 and 15:00-17:00
Riviera Palace and winter garden Belle Epoque hotel, 27 Boulevard de la Turbie. The dome of the winter gardens was designed by Gustave Eiffel.
Mont des Mules pedestrian path, with panoramic views and remains of an Iron Age settlement, located at Boulevard des Combattants d'Afrique du Nord.
Guided visits
French language guided visits are planned on foot and by minibus. Entry to places of interest is free, but reservation is obligatory with the Office de Tourisme on +33 4 93 78 01 55. Tours depart from the Office de Tourisme and participants are requested to arrive 10 minutes before the scheduled departure time. For a full program visit the Tourist Office website at: Beausoleil Journees Europeennes du Patrimoine Beausoleil 2017: partez a la decouverte [-].
Note that Monaco celebrates its own Journee du Patrimoine the following week.