Turkey, cards and home baked cookies.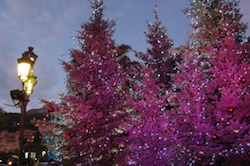 It's getting to the time of year when many of you enjoy a bit of nostalgia and tradition. No matter how fantastic it is living in Monaco and the South of France, you may still crave a little bit of home culture at Christmas and for those with a British background, the British Association of Monaco is stepping up to the mark. It's organizing an annual Christmas lunch on Thursday 15th December at the Eze Hermitage Hotel. The venue is outside maBoum's coverage, but transport is included for those who'd like to attend. Starting at 12:30, the festive meal includes welcome drink, starter, roast turkey and trimmings, dessert, coffee, mince pies, wine and water:
members 40 euros
non-members 50 euros
The deadline for reservations is Thursday 8th December and you should contact BAM for more information.
In addition to a turkey lunch, the Association is selling Christmas cards to raise funds for its community support service. Make sure you order them before 16th December to have them delivered in time.
Finally, if you have kids who like to bake, BAM is asking them to make a batch of biscuits or cakes to be sold at the Christmas Kermesse. The Association is managing a stand selling traditional British Christmas goods, including the kids' homemade goodies. Products should be wrapped in cling film or a decorated container with a label stating the young patissier's name, age, and date baked. A BAM member will be available at Le Regina and McDonald's in Fontvieille on Thursday 1st December to collect items, but you'll need to confirm this first with BAM.
For more information visit the BAM website: British Association of Monaco.