Fabulous faux-Faberge egg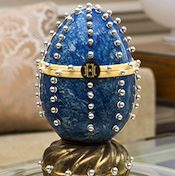 Hermitage Hotel's pastry chef Nicolas Baygourry has created a Faberge inspired chocolate egg for Easter.
In the late 19th and early 20th centuries, Peter Carl Faberge and his company created elaborate eggs for the Russian royal family to exchange as Easter gifts.
They were made with precious metals and decorated with jewels, and contained equally exquisite trinkets hidden inside them.
At 74 euros, the Hermitage's egg contains no gems, but it's still a luxurious and fabulously decorated treat.
Using 64% Brazilian dark chocolate, the egg is studded with silver sugar pearls and fitted with a golden hinge.
Inside the blue shell are nougats, caramels, and chocolate fishes.
For more information and to order an egg, phone +377 98 06 48 48 or +377 98 06 40 00.