Permanent exhibition of photographs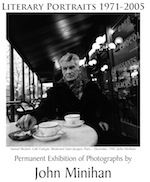 Princess Grace Irish Library has installed an exhibition of work by Irish photographer John Minihan.
The images are of literary figures, including Samuel Beckett, Seamus Heaney and Edna O'Brien, taken throughout the artist's career from 1971 to 2005.
According to Minihan's blog, he was born in 1946 and raised in Athy, County Kildare. Aged 12 he moved to London, where he served his apprenticeship at the Daily Mail and afterwards worked as staff photographer for the Evening Standard.
Currently a freelancer, he is perhaps best known for his iconic photo of Lady Diana Spencer carrying a toddler and wearing a translucent skirt.
The photographs form a permanent exhibition at the library, which is free to enter and open to the public:
Mon-Thu, 9:00-16:45
Fri, 9:00-15:45
For more information about the exhibition phone +377 93 50 12 25, email pglib[at]monaco.mc, and visit the venue website at: Princess Grace Irish Library.