August opening for skate park on the Rock.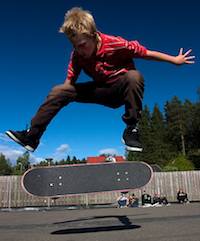 Photo source:
Skateboard Pro
.
Monaco Government's Direction de l'Amenagement Urbain is putting the finishing touches to a new skate park, located on the roof top terrace of Parking des Pecheurs. The play area replaces one that used to be situated on the jetty between Monaco's heliport and Cap d'Ail. Measuring 275 square metres, it's being fitted with the most silent skating ramps on the market. There are also plans to install a multi-use sports pitch next to the skate park in 2013.
From the beginning of August, teenagers and kids over 8 years old are welcome to practice their ollies and kickflips daily from 9:00 to 18:00.