Wear your poppy with pride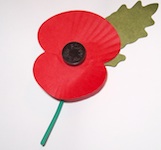 Each year the Royal British Legion raises funds for its work through the Poppy Appeal. The organization helps current and past servicemen, women and their families, offering not only financial and practical aid, but also emotional support.
Lend your support too, by buying a poppy in Monaco. We've listed below the usual places where you can buy one, and don't forget that direct donations are also welcome.
Where to buy a poppy in Monaco
UBP Bank (previously Lloyds Bank, boulevard des Moulins)
Eric Blair Insurance/Hon British Consulate
HSBC Bank, boulevard d'Ostende
Gale Force Computing, avenue Saint Michel
For more information and contact details for the Nice-Monaco branch, visit the Royal British Legion website: RBL Nice-Monaco Branch, and the Poppy Appeal site at: Story Behind the Poppy.