Show a sailor a good time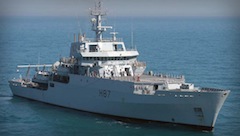 Royal Navy Survey ship HMS Echo is visiting Monaco from 24 to 28 April and the crew is hoping to meet local British residents and see some of the sights of the Cote d'Azur.
If you have a spare afternoon or evening, the men and women of the ship's company would appreciate your hospitality, perhaps for a drive around the F1 track followed by a drink or dinner, or a visit to the local sights.
British families with teenagers might use the opportunity to talk to the crew about careers in the Royal Navy and enquire about the possibility of experience at sea in the summer.
The 90-metre Echo will be berthed in Port Hercule, displaying her equipment to visiting hydrographers from the 19th International Hydrographic Conference as well as hosting a private reception for conference delegates.
During its last visit to Monaco in October 2014 the public were welcomed onboard, but official business makes that impossible this year, although hosts may be invited for a short private tour.
At the end of the week HMS Echo resumes its day-to-day work updating admiralty charts of the Mediterranean, Red Sea and Indian Ocean, as well as saving migrants who get into difficulties on the water.
If you would like to offer hospitality to the men and women of HMS Echo, contact Commander Michael Healy MBE on mhealy[at]orange.fr or Beverley Holt on Beverley[at]bandbintenational.com, proposing a date and time and including contact details with mobile phone number.
For more information about HMS Echo, visit the Royal Navy website at: HMS Echo.