Cancelled due to ill health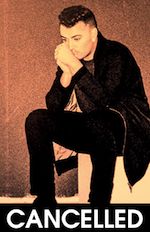 Sam Smith has had to cancel his June concert in Monaco due to a haemorrhage on his vocal chords.
The English singer-songwriter fell ill at the end of April during his In The Lonely Hour tour and had to cancel remaining dates in Australia and Japan.
In a press release, the singer said he was "deeply, deeply saddened" to have had to cancel his tour, that he has been "vocally exhausted" for a while and that doctor's told him he needs complete rest to avoid a long-term issue.
Following this on 7 May, Sam tweeted that he needed surgery and hoped to be back singing in July.
A new tour is being scheduled for December 2015, but it's not known if Sam will organize another date to visit Monaco.
Tickets will be reimbursed through the outlets at which they were bought.