Spring under the sea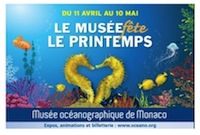 The Oceanographic Museum has a range of entertaining and educational activities organized for children during the spring school holidays.
Special activities include:
Whose is this egg?
Discover how sea creatures attract each other and mate, and examine the sort of eggs they lay.
daily 15:15 and 16:15
all ages
meet level 1, Salle Albert 1er
Draw me a shark
Creative drawing for beginners, using aquarium specimens as inspiration. No reservation, however numbers are limited to 10 per session. Materials provided.
5 euros per person
daily, 25 April to 10 May (not 4 May)
13:30, 15:00, 16:30
meet level 0 Entrance Hall
Tortoise encounter
Get to know the African Spurred Tortoises and their babies on the rooftop Turtle Island.
daily at 17:15
meet level 2 rooftop terrace
In addition, there are the usual daily touch tank sessions (5 euros), hourly shows in the whale room, fish feeding, learning about piranhas, discovering coral reefs and shark stroking.
For more information download the PDF program at: The Museum Celebrates Spring! Entertainment programme from 11th April to 10th May 2015.