Outdoor ice-rink opening hours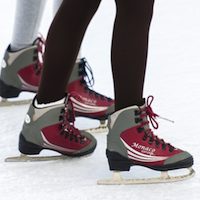 The Christmas Village may have closed but the outdoor skating rink remains open until 28 February.
Located at the Stade Nautique in Port Hercule, the 1000 m sq rink is open daily, with night skating every Wednesday until 22:00.
6.40 euros, free for under 5s
Adults and children are welcome, with skate rental included in the ticket price, and helmets and protective pads available on request.
If your ankles and knees aren't up to it, you could try curling instead on a 20 m course at the side of the rink and open during the same hours.
30 minute sessions
ask at the entrance for equipment
normal sports shoes can be worn
For something more competitive, ice-karting is available on Friday, Saturday and Sunday evenings until midnight.
6 minute sessions, 10 euros for under 18s / 13 euros for over 18s
10 sessions 90 euros / 117 euros
Fri from 18:30, Sat & Sun from 19:30
Owners of radio controlled model cars can race their vehicles twice a month on Sunday mornings:
10 & 24 Jan, 14 & 28 Feb
8:00-12:00
The rink is reserved for the Championnat de Monaco de Patinage on 27 Feb, a competition organized by the Federation Monegasque de Patinage in partnership with the Mairie. Spectators are welcome to watch Monaco's youngsters compete and then perform an exhibition show once all the awards have been presented.
Skating opening hours
to 5 Feb:

Mon-Fri 11:00-18:00
Sat & Sun 10:00-19:00

6 Feb-21 Feb:

Mon-Fri 10:00-18:00
Sat & Sun 10:00-19:00

22-28 Feb:

Mon-Fri 11:00-18:00
Sat & Sun 10:00-19:00
The rink is managed by Monaco Mairie's Service Municipal des Sports et des Associations. For more information phone +377 93 30 64 83.