Monaco's American diner promoting sustainability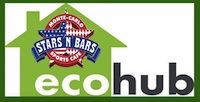 19 Apr 2016
Stars n Bars manager Annette Anderson today unveiled the restaurant's vision to become an Eco Hub for Monaco.
A teaser video created by the Sustainable Design School of Nice, outlined the 12-month plan, which will build on initiatives such as the Clever Kitchen monthly nutrition workshops, the kitchen garden and Monacology, an annual event that raises environmental awareness in children.
In addition to providing sustenance to Monaco residents and visitors, Stars n Bars aims to use more of its space for community activities, supporting local associations, promoting well-being and sustainable lifestyles.
The restaurant is already working with biomass recycling company Marco Polo and recycled wooden planter manufacturer Les Ateliers de Bois, and it aims to develop partnerships with other companies in order to reduce its environmental impact.
Restaurant founders Kate Powers and Didier Rubiolo concluded the presentation, assuring the audience that Stars n Bars would continue to be a family restaurant, but that now they would be working for the planet too.