Monaco association cleaning up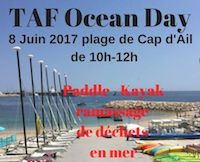 On Thursday 8 June The Animal Fund (TAF) is organizing a fun morning paddle-boarding and kayaking in return for help in cleaning up the world's oceans.
The team aims to depart from Cap d'Ail's Marquet Beach at 10:00, spend a couple of hours collecting plastic litter from the sea, and return to dry land at 12.00.
To join in you can reserve equipment in advance, or if you have your own, just turn up with it on the day at 9:30 at the sailing club at the beach.
Afterwards TAF members will be having lunch at a local restaurant and you are welcome to join them.
The event marks World Oceans Day and is just one of a number of clean-up efforts that the association organizes in the region to raise awareness of plastic pollution of the oceans.
To reserve equipment and a seat for lunch, email info[at]theanimalfund.net.
For more information about the organizer, visit the website at: The Animal Fund: events, and for more information about World Oceans Day visit the event website at: World Oceans Day.