Your weekend guide to Monaco and Monte Carlo.
Delivered to your email box first thing on Thursday morning.
November 3rd Newsletter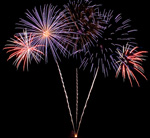 Remember, remember (1)
Doesn't time fly! It's November already and just 7 weeks to Christmas.
What's new?
There are changes afoot at Black Diamond, the nightclub that opened in June 2010 only to close its doors again a year later. We hear that the owners of Sass Cafe and Monaco Restaurant Group (Beefbar, Avenue 31 etc) are now involved and planning a name change, possibly to Arrabiata.
The Rock's newest restaurant Le Montgolfiere has a new autumn menu that includes pumpkin risotto, pan-fried foie gras, and baked apples with pain perdu (eggy bread). A 3 course meal with a choice of 3 starters, main dishes and desserts in the evening costs 39 euros.
What's in the diary...
Thursday: Special 20th anniversary.
Friday: Your support needed!
Saturday: Bargains in a beauty spot.
Sunday: Running around at the beach.

Coming up next week, MICS, mountaineering and media events, Irish and British talks.
For lots more suggestions, visit maBoum's 7 day listing and enjoy your weekend.
(1) This week's quote is from the rhyme "Remember, remember the 5th of November, gunpowder treason and plot". Bonfire night (in Britain) is fast giving way to American Halloween, but there are still some who remember fireworks, treacle toffee, black peas and parkin.