For fans of weddings, royal or otherwise.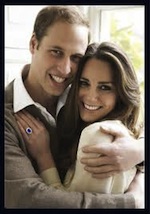 There are around 3000 Brits resident in Monaco, with several more on work placement, and quite a few have been asking where they can watch the marriage of Prince William and Kate Middleton on Friday.
Romance is in the air in Monaco this year, with the recent spectacular Indian wedding, and the forthcoming nuptials of Monaco's own Prince Albert II and Charlene Wittstock. But if unlike Albert and Charlene your invitation to attend the UK's Westminster Abbey event didn't arrive, and you're stuck in Monaco but want to take part in the celebrations, then maBoum can help you. Click the links in our listing below to see where you can watch the wedding of the future King of England.
If you're not around on the day, you can still take part by signing a congratulations book at the British Consulate in the Principality's very own Buckingham Palace on avenue Saint Michel. You'll be welcome any time up to Thursday 28th April during office hours (9:00-12:00, 14:30-17:30), or on Friday at CREM.
29 Apr 2011
-
Pub wedding watch
29 Apr 2011
-
Saphir royal wedding
29 Apr 2011
-
Royal Wedding at CREM
29 Apr 2011
-
Wedding drinks at Slammers
29 Apr 2011
-
Royal Wedding Brunch
29 Apr 2011
-
Lunch with Will and Kate