The only place where it's acceptable to drink whisky on the Rock.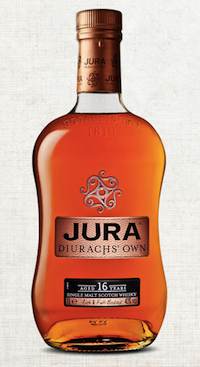 A gift for Prince Albert. Photo Source:
Jura Whisky
On Friday 17 July, competitors in the Monte Carlo or Bust Rally set off from the French town of Saint-Quentin for a 3-day journey to Monaco.
One of the teams has been entrusted with a special bottle of whisky that has come all the way from the remote Scottish island of Jura.
Jura Distillery manager Willie Cochrane has signed and dispatched the 16-year old Diurachs' Own single malt as a gift for Prince Albert, following his recent visit accompanied by Anita di Sotto of the Monte Carlo Whisky Society.
The couriers are a 3-man rally team that call themselves The Mad Molars, all of whom work at the University of Glasgow Dental School.
Jeremy Bagg, Neil Campbell and Ronnie Ford are driving a 1977 Leyland Princess in the fun rally in order to raise money for a new student dental technology teaching facility.
Once in Monaco the bottle of whisky, the dram of choice for the people of Jura, is to be handed over to Prince Albert, who apparently has quite an interest in "liquid sunshine".
The Prince joins Churchill, Bogart and Mark Twain in his appreciation, and will no doubt enjoy a little tipple drunk neat or with a drop of water; never on the rocks. Although perhaps in the heat of a Monegasque summer, an exception can be made.
If you'd like to help the Mad Molars raise money for Glasgow Dental School, visit: