What's happening in Monaco and Monte Carlo.
Delivered to your email box first thing on Thursday morning.
October 24th Newsletter
You're human (1)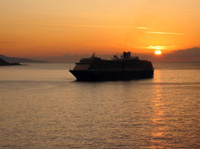 Don't forget to turn your clocks back an hour on Sunday morning!
What's new?
The Monte Carlo Opera season begins this week with daily performances over four days of Amelia Al Ballo and The Telephone. For kids young and old, the autumn fun fair has taken up residence at the port, with plenty of rides and entertainment taking us through to Monaco National Day.
Expect to find some unusual fish on the menu at Fairmont Monte Carlo. As a partner of Fondation Prince Albert II (FPA2), the hotel is committed to offering local, sustainable fish in its restaurants as part of the Mr Goodfish campaign, for which the FPA2 is the South East region coordinator. Established in 2010, Mr Goodfish aims to raise awareness of species over-fishing whilst encouraging consumption of sustainable, abundant but lesser known fish varieties.
More details were published this week about construction work on the northern quayside of Port Hercule, which will eventually house the Prince's car collection above a public car park for 300 vehicles. Work is to take place in phases over several years, with an enlarged promenade ready for the 2017 Grand Prix, and a completion date of end 2019. Preparation begins this autumn/winter.
And finally, the press reports that the Principality can expect a visit from French President Francois Hollande on 14th November.
What's in the diary ....
Thursday: Lunch with ambassador, dinner with sportsman.
Friday: The library rocks.
Saturday: See how Italians live.
Sunday: Soul music and football.
Coming up next week, Greek art, Italian satire, and magical music.
For lots more suggestions, visit maBoum's 7 day listing and enjoy your weekend.
(1) This week's quote is a line in the poem Human Beings, written by Adrian Mitchell, born this day 1932.