Annual series of concerts and shows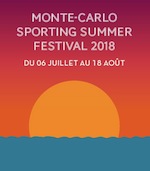 From 6 July to 18 August, Monte Carlo SBM organizes concerts and shows for summer visitors and residents.
The highlights for us this year are [-], but there are plenty more international stars and musical shows to suit younger fans and Italian and French audiences.
With a hugely successful career, [-] performance is the most expensive at 1000 euros, which includes dinner beforehand, but excludes drinks. [-] can be seen for just 60 euros, performance only. Click through the links below for more information about each show.
For more information phone +377 98 06 41 59, email ticketoffice[at]sbm.mc and visit the event website at: Monte Carlo Live: Sporting Summer Festival programmation.
Smart dress is required at the dinner shows, where gentlemen should wear a jacket, and tuxedos are mandatory for the Monaco Red Cross Gala. Children under 7 are not admitted, and older children must be accompanied by their parents.
Overview of 2018 program: