Monaco's patron saint.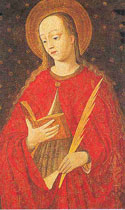 Outside Monaco, Saint Devote isn't a very well-known figure, except perhaps in Corsica, where she lived in the early 4th century. Persecuted for her faith and killed, Devote's body was taken by Christians hoping to sail to Africa to bury her. Unfortunately, the boat was driven off course by a great storm, which subsided when a dove miraculously flew out of the dead saint's mouth and guided the travelers to Monaco. On 27th January 312, the boat ran aground and Devote's remains were placed in a small chapel, which soon became a site of pilgrimage. One night the saint's relics were stolen, but the thief was caught trying to get away in a boat, which was burned. In remembrance of the attempted theft, every year on the eve of Saint Devote's Day, a torch-lit procession makes its way along Port Hercule to the saint's little church, where a boat is symbolically set alight.
The feast day itself, tomorrow, is a public holiday in Monaco.