Francis Bacon: Monaco and French culture
Venue: Grimaldi Forum
Summer art exhibition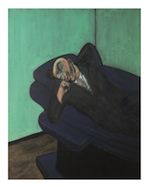 Lying Figure 1958, oil on canvas, 153.5 x 119.5 cm, Museum Bochum (Germany).
Advance tickets for 5 euros are available up to 30 June. Phone +377 99 99 30 00 or visit the Grimaldi Forum ticket office.
From 2 July to 4 September in the venue's Espace Ravel, a summer art exhibition entitled "Francis Bacon, Monaco et la culture francaise". It features around 60 works by the artist that were influenced by his visits to France and Monaco. There are also examples of items by artists who influenced Bacon, including Giacometti, Soutine and Toulouse-Lautrec amongst others.
daily, 10:00-20:00
late opening until 22:00 every Thursday
Curating the exhibition is Martin Harrison, author of the Catalogue Raisonne de Francis Bacon, with the cooperation of the Francis Bacon estate in London and the Francis Bacon MB Art Foundation in Monaco. Works are being loaned from Tate Britain, the Arts Council Collection, Art Gallery of New South Wales and the Pompidou Centre, as well as from private collections.
Born in Dublin in 1909, Bacon lived in London, Paris and Monaco. He first lived in Chantilly in 1927, stayed in Monaco from 1946 to the early 50s, and returned to the Riviera often in the 50s and 60s. In 1974 he took a workshop apartment in Paris, which he kept for 10 years.
This is the first major event organized with the support of the Francis Bacon MB Art Foundation that was inaugurated in Monaco in 2014.
Related events
21 Mar, Martin Harrison: Francis Bacon and Monaco, conference.
26 Apr, Francis Bacon dans l'arene du Grimaldi Forum.
12 May, Catherine Alestchenkoff presents the Francis Bacon exhibition.
4 Jul at 18:00 in the Grimaldi Forum, a private, guided visit for members of CREM. English and French commentary, duration 2h, members 15 euros, member's guest 20 euros, numbers limited to 20, RSVP before 27 Jun to info[at]crem.mc or +377 97 98 01 77.