Bain de Noel 2015
Venue: Larvotto Beach
11th annual Christmas swim in the sea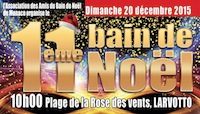 Setting off from the beach below Rose des Vents restaurant, a fun swim followed by a tombola to raise money for the Enfants de Pierrevert association. Attended by Pierre Frolla.
participation 10 euros
optional shower 5 euros
refreshments provided after the swim
registration at the event
Organized by the Association Monegasque des Amis du Bain de Noel. For more information email baindenoelmonaco[at]yahoo.fr and visit the event facebook page at: Association les Amis du Bain de Noel de Monaco.
For more information about the charity, visit the website at: Association Jeunesse et Avenir - Monaco.