Monaco Control Centre: Solar Impulse
Venue: Auditorium Rainier III
Guided visit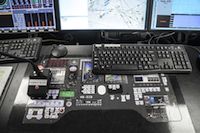 One of three guided visits, on 22 May, 12 June and 10 July, of the Monaco Mission Control Centre for the round-the-world solar-powered flight by Solar Impulse.
numbers limited
free entry
obligatory registration (see below)
The Solar Impulse teams will be on hand at the strategy centre for the mission.
Meet in the hall of the Auditorium Rainier III.
Supported by the Fondation Prince Albert II and the Gouvernement Princier. For more information and reservations email solarimpulse[at]fpa2.mc, phone +377 98 98 44 44 and visit the website Fondation Albert II de Monaco - visites du Monaco Control Center - Solar Impulse.