Monte Carlo International Circus Festival 2017
Venue: Espace Fontvieille
41st edition of international circus festival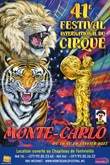 From 19 to 29 January, with traditional and contemporary circus entertainment, tickets from 30 euros for adults and from 10 euros for children.
Competition shows
19 and 21 Jan, 20:00, 1st program
20 Jan, 20:00, 2nd program
22 Jan, 10:30 (short program, reduced prices) and 15:00, 2nd program
Gala evening and prize giving
Winners' shows
25 Jan, 14:30 and 20:00
26 and 27, 20:00
28 Jan, 14:30 and 20:00
29 Jan, 10:30 (short program, reduced prices), 14:30 and 19:00
For a full program visit the event website at:
Monte Carlo Festivals: Le Festival International du Cirque de Monte-Carlo
.
Associated events
During the festival there are several circus related events, including an annual competition for the best circus themed shop window display, organized by the Union des Commercants et Artisants de Monaco (UCAM).
Invitation to CREM members
Members of the Club des Residents Etrangers de Monaco are invited to attend the 19:00 winners' show on 29 January. 30 seats have been reserved in section A, rows 9 and 10, price 80 euros for adults and 45 euros for children aged 5-12. For more information and RSVP before 3 October, email info[at]crem.mc or phone +377 97 98 01 77. Pre-payment is required.