Le Fantôme de l'Opéra (1925)
Venue: Salle Garnier: Opera House
Film screening with live music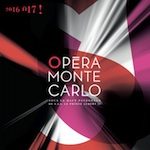 Two screenings, on 22 and 23 October, of a black and white, colour tinted movie with French subtitles, and piano music improvised by Jean-François Zygel.
Starring: Lon Chaney, Mary Philbin, Norman Kerry
Director: Rupert Julian
Genre: Horror | Romance
Running time: 1h33
More details: The Phantom of the Opera (www.IMDB.com)
Part of the Opera de Monte Carlo 2016-17 season. For more information visit the website: Opera Monte Carlo: 2016-2017 saison. Tickets from 15 euros, available to the public at +377 98 06 28 28 and at the ticket office from 6 September.