Manon
Venue: Salle Garnier: Opera House
5-act comic opera by Massenet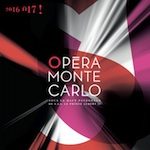 Four performances, on 22, 25, 20 and 27 January, of Jules Massenet's opera Manon. The part of Manon Lescaut is sung by Sonya Despaux.
tickets 40 to 110 euros
tickets available from 6 September
duration 2h40
Note
that the 20 January performance is a gala event.
Part of the Opera de Monte Carlo 2016-17 season. For more information visit the website: Opera Monte Carlo: 2016-2017 saison.