Kollection @ Blue Gin
Venue: Blue Gin: Monte Carlo Bay
Networking for hipsters and oldies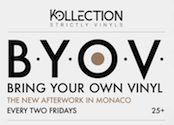 A new style afterwork event that takes place every other Friday at one of two venues, Blue Gin or StarDeck.
The DJ uses only vinyl records to mix the music, designed to appeal to music lovers aged 30 plus. Guests are encouraged to "bring your own vinyl (BYOV)" and ask the DJ to play it. There is also a pop-up "showroom" containing a large selection of vinyls put together by One Way Records's DJ Dekka. Fans and collectors can swap their music and listen on decks made available for the evening.
During the event, Blue Gin has set aside a lounge bar for cocktails, finger food and listening to music, a dedicated dance floor, and a pop-up record library.
For more information and to register for the event email info[at]kollection.fr and visit the event website at: Kollection: strictly vinyls.