Monte Carlo Boxing Bonanza Nov 2016
Venue: Salle des Etoiles: Sporting d'Ete
Sports competition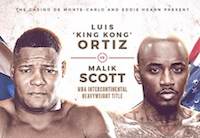 A tournament of four boxing matches, two of which are for world titles. Seats from 100 euros. Program:
WBA super featherweight world title, Jason Sosa (USA) vs Stephen Smith (UK)
WBA bantamweight world title, Jamie McDonnell (UK) vs Liborio Solis (Venezuela)
WBO international Super Middleweight title, Arthur Abraham (Germany/Armenia) vs Martin Murray (UK)
WBA intercontinental heavyweight title, Luis Ortiz (Cuba) vs Malik Scott (USA)
The event is to be broadcast live on Sky Sports.
Related events
Friday 11 Nov at 12:00 in Monte Carlo Casino atrium, competition weigh-in, free access.