Bien-etre / wellness with movement
Venue: Stars n Bars
Fun exercises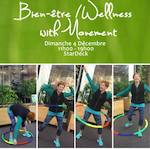 On the first floor StarDeck, opportunity to discover exercise and movement.
free entry, open to all, kids and adults
dress code comfortable
Includes kid's zumba, bollywood, pop pilates, posturo-therapy, pole fitness, digestion and anti-age yoga, qi gong, ski fitness and more.
For more information contact the venue and see the venue's facebook photo: Stars n Bars: bien-etre/wellness through movement.