Chemin des Creches 2016
Venue: Several places in Monaco
3rd edition of nativity scenes trail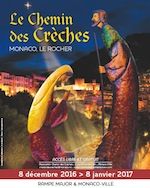 From 8 December to 8 January, an exhibition of nativity scenes from around the world.
free of charge
open to the public
The exhibition takes the form of a trail, starting at the foot of the Rampe Major pedestrian walkway up to the Rock. There are chalets in the Palace Square, outside the Cathedral, the Ministry of State and the Conseil National.
A French language book is also for sale in fnac, entitled "Le Chemin des Creches sur le Rocher, and including a miniature wooden creche, price 20 euros.
A printed itinerary is available from the Tourist Office. For more information phone +33 6 80 42 10 84, email chemindescreches[at]monaco.com, and visit the event website at: Chemin des Creches de Monaco.