Action Innocence fir tree auction 2016
Venue: Hotel de Paris
Annual fund-raising auction of Christmas trees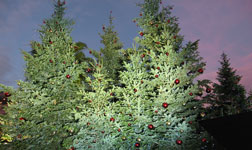 An auction of specially designed fir trees for the benefit of the Action Innocence charity.
12-14 Dec in Hotel de Paris lobby, exhibition of Christmas trees
14 Dec at 17:30, auction, with Christmas carols performed by students of the International School of Monaco
The trees are created by brands, boutiques and artists based in the Principality.
Action Innocence is a non-profit, non-governmental organization that aims to protect the dignity and integrity of children on the internet. For more information phone +377 97 77 51 11 and visit the organization's website at: Action Innocence.
Invitation to CREM members
CREM President Louisette Levy-Soussan Azzoaglio invites members to participate in the Christmas tree auction. During the event there are Christmas carols and Gluehwein.
For more information phone +377 97 77 51 11.