Bain de Noel 2016
Venue: Larvotto Beach
12th annual Christmas swim in the sea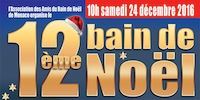 Setting off from the beach below Rose des Vents restaurant, a fun swim followed by a tombola to raise money for the Monegasque association Vol a Voile.
participation 10 euros
price includes tombola ticket
refreshments provided after the swim
registration at the event
Organized by the Association Monegasque des Amis du Bain de Noel. For more information email baindenoelmonaco[at]yahoo.fr and visit the event facebook page at: Association les Amis du Bain de Noel de Monaco.