OPMC: rule, Britannia
Venue: Salle Garnier: Opera House
Symphonic concert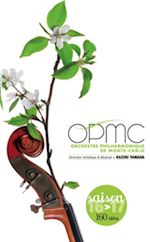 Performance by Monte Carlo Philharmonic Orchestra conducted by David Lefevre, also on violin, and featuring Heloise Hervouet on piano. The program includes music by Elgar, Williams, Britten, and Walton.
For more information and full program visit the orchestra's website at: OPMC concerts: grande saison. Tickets from 17 to 50 euros.
One of 17 performances in the Monte Carlo Philharmonic Orchestra's 2016-17 Grande Saison series. For more information phone +377 98 06 28 28 and email atrium[at]opmc.mc.
Invitation to CREM
Members of CREM are invited to attend the concert, 20 tickets @ 33 euros, RSVP before 27 March.