Helene Grimaud
Venue: Salle Garnier: Opera House
Piano recital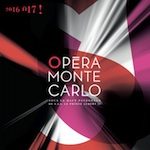 In co-production with the Printemps des Arts festival, pianist Helene Grimaud performs works by Berio, Takemitsu, Faure, Ravel, Albeniz, Liszt, Janacek, Debussy and Brahms.
For tickets and reservations visit the Monte Carlo Casino atrium box office, phone +377 98 06 28 28, or email ticket[at]opera.mc.
Part of the Opera de Monte Carlo 2016-17 season. For more information visit the website: Opera Monte Carlo: 2016-2017 saison.
For a listing of all Printemps des Arts 2017 events, visit our page: Printemps des Arts 2017 and for more information about the event webiste at: Festival Printemps des Arts de Monte Carlo.
Invitation to CREM
CREM members are invited to the concert. Tarif 150 euros, seats in Serie 1, RSVP before 13 March to info[at]crem.mc or +377 97 98 01 77.