And now for something completely different
Venue: Galerie l'Entrepot
Collective exhibition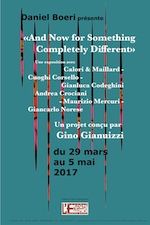 From 29 March to 5 May, an exhibition conceived by Gino Gianuizzi, involving Calori and Maillard, Gianluca Codeghini, Andrea Crociani, Cuoghi Corsello, Maurizio Mercuri, and Giancarlo Norese.
vernissage, 12 April from 18:30
The title of the exhibition is taken from the Monty Python film of the same name and indicates the project's structure. This follows a plan similar to the film, which consists of a series of sketches or episodes.
For more information visit the venue's website at: l'Entrepot: Gino Gianluizzi 'And Now For Something Completely Different'.