Hercule Florence: le nouveau Robinson
Venue: Villa Paloma: New National Museum of Monaco
Art exhibition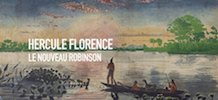 From 17 March to 11 June, an exhibition of around 400 works, mostly drawings and manuscripts, by 19th century Monegasque-Brazilian inventor and artist Hercule Florence. International artists' works that have been produced for the exhibition are on display.
daily, 10:00-18:00
entry 6 euros
free entry on Sundays
The show is curated by Linda Fregni Nagler and Cristiano Raimondi.
Florence invented a system for the musical notation of bird songs called the Zoophonia, and a printing method based on the principles of photography called Polygraphia. Whilst in Brazil he also invented a photographic process, independently from contemporary research being carried out in Europe at the time.
Related events
All events take place in Villa Paloma and are in French, unless otherwise stated.
16 Mar, 19:00, Conference autour d'Hercule Florence
29 Mar, 18:30, Une histoire de la photographie
10-13 Apr (tbc), workshop for ages 7-12
11 May, 18:30, De Monaco a Campinas
mid-May (tbc), Hercule et Amazonie
every Sunday, 16:00, lecture of extracts from Hercule Florence manuscripts
For more information phone +377 98 98 49 38, email public[at]nmnm.mc, and visit the venue website at:
Nouveau Musee National de Monaco: Hercule Florence - le nouveau Robinson
.