Le Spiritisme selon Allan Kardec
Venue: Stars n Bars
French language conference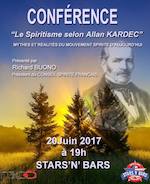 On the upper floor StarDeck, a conference presented by Richard Buono of Conseil Spirite Francais, on the subject of "le spiritisme selon Allan Kardec" (spiritism according to Allan Kardec), the myths and realities of the spiritism movement today.
40 euros
includes conference, buffet, and one drink
Reservation is obligatory at:
Weezevent: Richard Buono
.
For more information about spiritism, visit the wikipedia page: Wikipedia: Spiritism.