Saadane Afif: The Fountain Archives 2008-2017
Venue: Villa Sauber: New National Museum of Monaco
Exhibition of images, sculptures and lyrics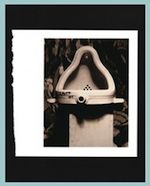 From 2 June to 15 October, an exhibition by Saadane Afif marking the centenary of Fountain 1917, the work by Marcel Duchamp consisting of a urinal. It includes framed images of Fountain ripped from books and magazines, also sculptures and song lyrics, and questions the status of Duchamp's original.
daily, 10:00-18:00
entry 6 euros
free entry for under 26s, and for all every Sunday
Duchamp's Fountain was rejected by the Society of Independent Artists for its New York exhibition. The artist then published an anonymous article with a photograph of the urinal, thus establishing the work as an item that is now discussed in terms of art history. The original urinal has disappeared.
The exhibition is a joint production with the Centre Georges Pompidou. For more information phone +377 98 98 91 26 and visit the venue website at: NMNM: Saadane Afif, The Fountain Archives 2008-2017.