American Independence Day 2017
Venue: Stars n Bars
American celebrations in Monaco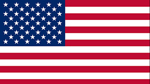 Join expat Americans to celebrate 4 July.
@ Stars n Bars
From 18:00, a street party on the restaurant terrace, open to all, with American entertainment, live music and DJs. There's a giant BBQ, mechanical bull riding, candy floss and live music.
Join MonacoUSA for a pre-party aperitif in the upper floor StarDeck, 18:00-19:00.