OPMC: Animaux en folie
Venue: Auditorium Rainier III
Music for a young audience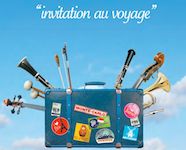 A musical performance on the theme of animals, designed to capture children's attention and develop their appreciation of music. Geoffrey Styles conducts the orchestra and Alasdair Malloy narrates in French.
tickets 5 euros
for children over 4 years
The audience is invited to bring a favourite toy animal to share the music. A Monte Carlo Philharmonic Orchestra 2017-18 Concert Jeune Public season performance.
For a full program visit the orchestra's website at: OPMC concerts: saison 17/18. For more information phone +377 98 06 28 28 and visit the venue ticket office.